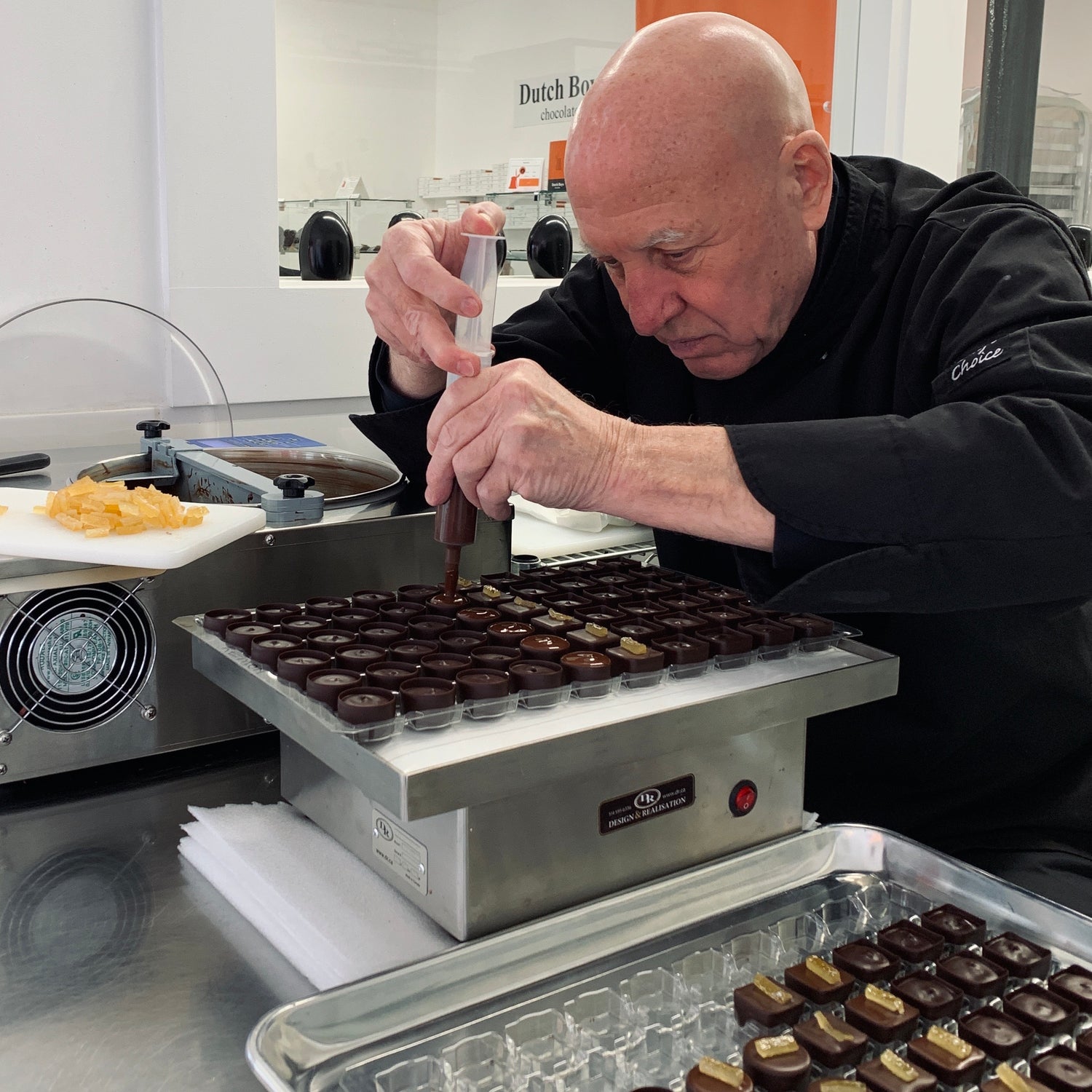 EXPECT THE UNEXPECTED
When two retired men met at a friend's dinner party in 2012, little did they know the importance of this evening's venue. Over the ensuing months Cor Boon and Henry Noestheden learned of each other's business and creative experiences. Having been highly successful throughout their careers neither man was enamoured with the concept of remaining retired.

Both being of Dutch background, acculturation and experience they were well prepared for the demanding task of starting a new business. Developing their vision of uniqueness Henry and Cor focused on designing and producing a new line of hand-made chocolate confections and truffles. This began the journey of creating beauty through the medium of high quality chocolate.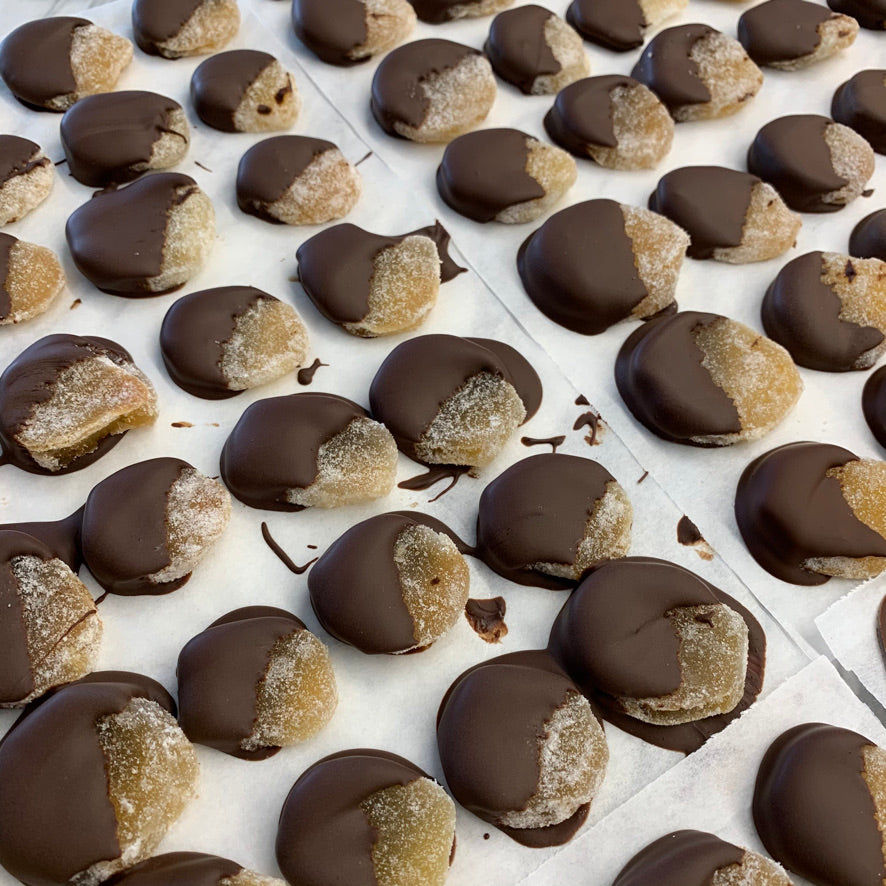 Cor, a talented and award winning carver, prepared dozens of wood patterns that would become the designs for chocolate molds. Henry, a professional sculptor and fabricator, brought his experience in mold making to cast the wood patterns into a collection of silicone molds and proprietary mold registration systems. They both designed and built Orbital Rotation machines which are used in the shop for the chocolate molds during tempering cycles.

OUR STORE
Henry and Cor founded Dutch Boys Chocolate lnc. locating their first store and production facility in Kingsville, Ontario. The focus of their creativity becomes obvious when entering the clean and cozy store. The large glass display cases show dozens of unique chocolate creations. Customers can see
chocolate being hand-made in the production facility. The most obvious aspect of this store is the incredible attention to customer service and the willingness to explain the process from start to finish. The result is that customers have a unique and wonderful shopping experience.

Dutch Boys Chocolate lnc was founded in 2017 and has gained recognition of producing superior chocolate creations winning the 2017 ``Jimmie Award" for `Best Chocolate in Canada'.

PLACE AN ORDER FOR IN-STORE PICK UP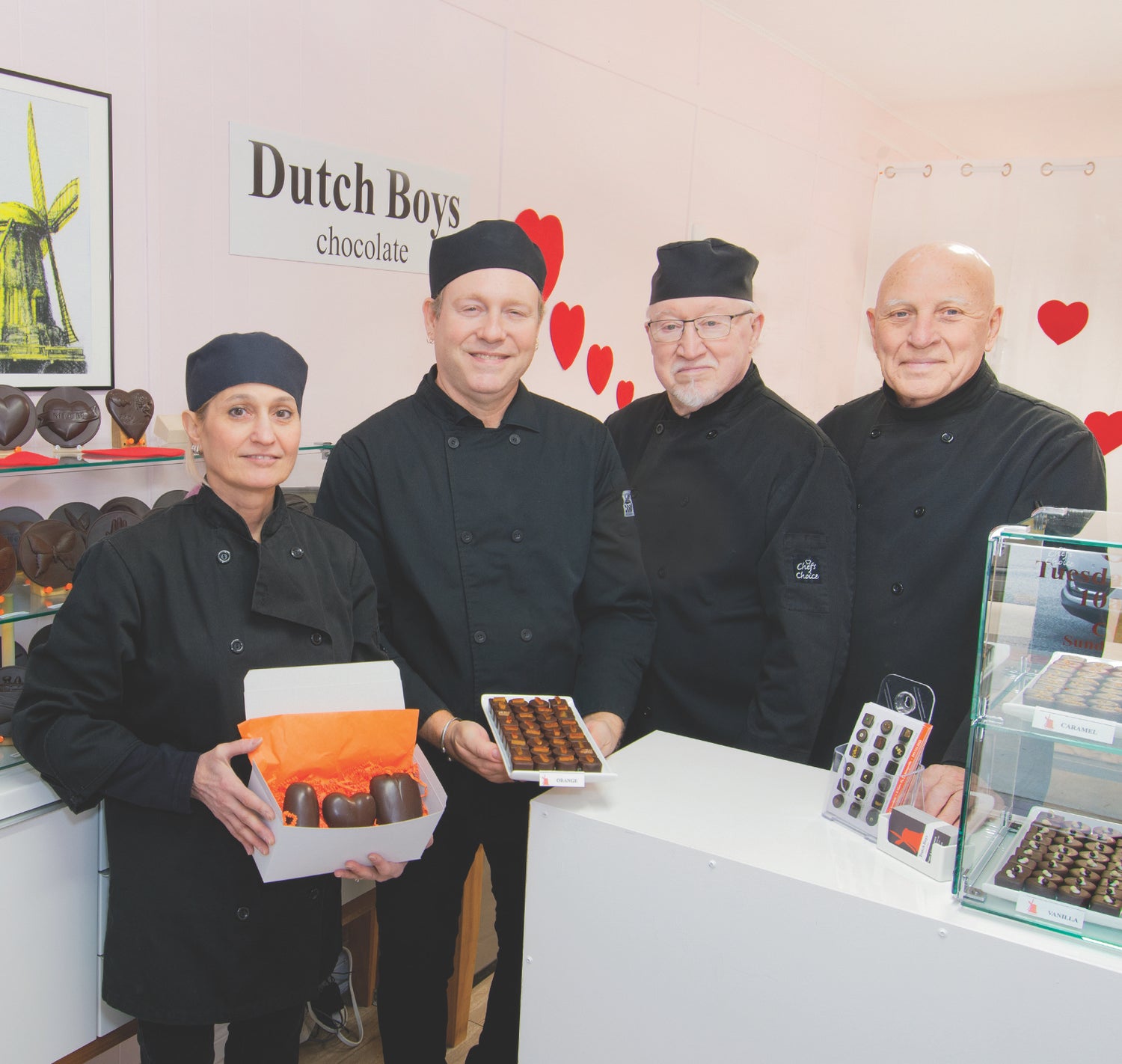 PASSING OF THE TORCH
ln 2021 the founders Henry and Cor decided it was time to move on to new challenges as they weren't getting any younger. They didn't. intend to be idle as they still had goals they wanted to achieve. They decided to put the business up for sale but notjust to anyone. Both Mr. Boon and Mr. Noestheden said `'Kingsville has a unique downtown with an eclectic mix of fine restaurants, brew pubs, specialty shops etc." They wanted the chocolate shop to continue being part of the downtown community and their legacy to continue to thrive. Enter Maggie & Sam
NEW BEGINNINGS